As of April 22, PACE University's New York City Campus requires community members to be vaccinated against COVID-19 or provide proof of a negative test result for a COVID-19 PCR test administered no more than 72 hours prior to arriving on campus. Proof of vaccination may be presented in the form of a paper copy or digital image of a guest's vaccination record; the New York State Excelsior Pass, or the NYC COVID Safe App.
Mask-wearing is also required when not eating and drinking. This policy is subject to change, please check back closer to the event for the latest update.
For an in-depth look at the policy, click here.
Don't Miss The Premier Renewable Energy Conference on the East Coast!
The aspirational goals established by the Climate Leadership and Community Protection Act (CLCPA) have set New York on a path to green energy, but they aren't without significant challenges for businesses and consumers. It's time to explore how New York plans on achieving 70% renewable energy by 2030, a fully decarbonized electric generating sector by 2040, and state-wide net-zero emissions by 2050. This year, the conference will focus on the work of the Climate Action Council established under the CLCPA to implement the Act's mandates. Panels will explore the ambitious goals for the development and deployment of offshore wind and solar resources, the reduction in fossil generation, and adding energy storage. How business, resident, and customer requirements will be impacted by CLCPA program rollouts will also be investigated by our panels of experts.
The conference will have an exciting new venue in the Big Apple utilizing the facilities of Pace University one of the leading academic institutions in the nation. The Conference is designed to allow you to learn, meet subject matter experts, and ask questions on issues most important to you, your organization, and your business.
TUESDAY, JUNE 21
11:00 - 12:00 p.m.
Registration, Networking & Visit the Exhibits
Beverage Station, Snacks Available
12:00 - 12:30 p.m.
Welcome | Introductions
12:30 - 1:00 p.m.
Keynote Address
Implementing the CLCPA - The Climate Action Council Scoping Plan

Doreen M. Harris, President and CEO
NYSERDA

1:00 - 2:00 p.m.

Reaching 9,000 Mw of Offshore Wind by 2035 - In-State Supply Chain Impacts

Moderator:

Ken Pokalsky, Vice President
The Business Council

Panelists:

Kevin Hansen, Executive Vice President
NYS Empire State Development Corporation
Max Taffet, Vice President of PortNYC Planning and Transportation
New York City Economic Development Corporation
Fred Zalcman, Director
New York Offshore Wind Alliance

2:00 - 2:15 p.m.

Refreshment Break | Visit the Exhibits

2:15 - 3:00 p.m.

Technology the Glue that Holds Implementing the CLCPA Together

Nicholas Donofrio, IBM Fellow Emeritus and Executive Vice President Innovation and Technology, Retired
CEO, NMD Consulting LLC

3:00 - 4:00 p.m.

Reaching 70% Renewables in the Power Sector by 2030 and the Role of Distributed Generation

E. Scott Medla, Managing Partner
Ansonia Partners, LLC

Panelists:

John Garvey, Manager, Clean Energy Section, Office of Markets & Innovation
New York State Department of Public Service
Nicole Bouchez, Ph.D., Principal Economist, Market Design
New York ISO
John Borchert, Senior Director, Energy Policy
Central Hudson Gas & Electric

4:00 - 4:15 p.m.
Refreshment Break | Visit the Exhibits
4:15 - 5:15 p.m.

Reaching 6,000 to 10,000 Mw of Solar by 2025

5:15 - 5:30 p.m.
Wrap Up | Conclusion Day One
5:30 - 7:00 p.m.
Networking Reception
WEDNESDAY, JUNE 22
8:00 - 9:00 a.m.

Registration, Networking, and Visit the Exhibits
Continental Breakfast

9:00 - 9:05 a.m.

Welcome | Introductions

Lawrence G. Singleton, Ph.D., Dean, Lubin School of Business
Pace University

9:05 - 9:35 a.m.

Charting the Course toward 2050 – Moderated Discussion with Public Service Commissioners

Moderator:

William Flynn, Partner
Harris Beach PLLC

Panelists:

Diane Burman, Commissioner
Rory M. Christian, Chair
NYS Public Service Commission

9:35 - 10:35 a.m.

Reaching 6,000 Mw of Energy Storage by 2030
Moderator:

Zachary Smith, Vice President, System and Resource Planning
New York ISO

Panelists:

Charles Umberger, Energy Storage Section Manager, Utility of the Future
Con Edison
Christopher Fry, Senior Director, Energy Economics
New York Power Authority
Andy Israelson, Vice President, M&A & Strategy
Convergent Energy + Power

10:35 - 10:45 a.m.
Refreshment Break | Visit the Exhibits
10:45 - 12:15 p.m.

Impacts on Residential, Government, and Business Energy Costs

Moderator:

Kenneth Pokalsky, Vice President
The Business Council of New York State, Inc.

Panelists:

Michael B. Mager, Partner
Couch White / Multiple Intervenors
Andrew S. Rein, President
Citizens Budget Commision
James W. Taylor, President and CEO
Taylor Biomass Energy

12:15 - 12:30 p.m.
Closing Remarks | Conclusion
Payment must accompany registration. Registration includes all sessions, Refreshment Breaks, Networking Reception, Continental Breakfast
| | Before 6/13/22 | After 6/13/22 |
| --- | --- | --- |
| Registration Fees: | $349 | $399 |
Cancellation Policy:
You may cancel your registration up to seven days prior to the event. You will be refunded, less a $75 processing fee. Cancellations received after June 13, 2022, will not be eligible for a refund. We encourage you to send a substitute in your place if you cannot attend.
Be part of the Premier Renewable Energy Conference on the East Coast. Heighten your corporate visibility. Sign up now as a Conference Sponsor! Contact Maribeth Riley or call (518) 694-4468
Each Sponsorship includes:
Complimentary Conference Registration(s)*

Post Conference List of Participants

Recognition on Conference Website and Signage

Brand exposure on social media prior to event
Conference Sponsorship Levels:

Premier
*Opportunity to offer welcome remarks on Day 1 or showcase a promotional video (One minute maximum)
*3 complimentary registrations

$5,000
Gold
*2 complimentary registrations
$4,000

Silver
*1 complimentary registration

$3,500

Bronze
*1 complimentary registration

$3,000
Event Sponsorship Levels:

Welcome Reception
*1 complimentary registration

$2,500

Continental Breakfast
*1 complimentary registration

$2,000

Refreshment Break
*1 complimentary registration

$1,500

Session
*1 complimentary registration

$1,000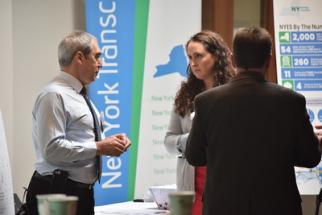 Exhibitors will have prominent space adjacent to the Conference area, with direct access to Conference attendees. Refreshment breaks will be hosted among the Exhibitors. Space is limited so sign up early for a prime location!
Exhibit Includes
Table; two chairs

One Complimentary Conference Registration

Up to Two Discounted Registrations

For more Sponsorship or Exhibit information or if you wish to consider co-sponsorship, please contact Maribeth Riley at

[email protected]

or call 800.358.1202.
The hotels below offer a 15% discount on the flexible rate available at the time of booking. Please use the links below to reserve your room.
Moxy NYC Downtown
Address: 26 Ann Street, New York, NY 10038
BOOK YOUR GROUP RATE HERE or call 212-257-8886 and use the Special Rate Code: PU2

Hampton Inn Manhattan - Seaport Financial District
320 Pearl St, New York, NY 10038
BOOK YOUR GROUP RATE HERE or call 212-571-4400 and book with the Special Corporate Account Code: #0000925496
---
Other nearby hotels can be found here.