About Us
The Business Council of New York State, Inc., is the leading business organization in New York State, representing the interests of large and small firms throughout the state. Our membership is made up of more than 3,000 member companies, local chambers of commerce and professional and trade associations.
Though 76 percent of our members are small businesses, we also represent some of the largest and most important corporations in the world. Combined, our members employ more than 1.2 million New Yorkers.
We serve as an advocate for employers in the state's political and policy-making arenas, working for a healthier business climate, economic growth, and jobs.
We also help our members cut costs and provide important benefits to their employees with group insurance programs that offer competitive costs and high-quality service. Our team also serves as an information resource center for our members, providing an array of news and updates, webinars, seminars, networking, and individualized regulatory and legislative assistance.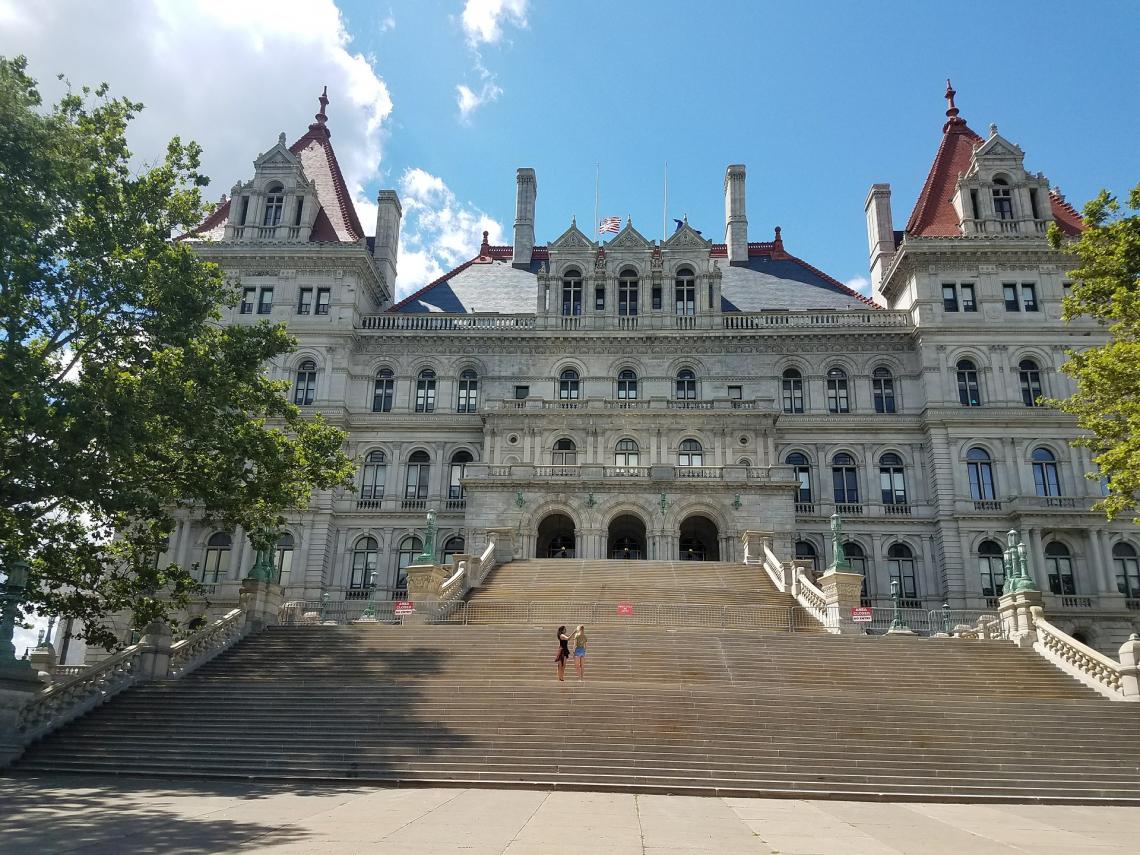 Our Mission: The voice of business and employers in New York State.
---
History of the Council
In the spring of 1914, manufacturers representing various business interests gathered in Buffalo to devise a response to recently enacted labor laws. The resulting two-day meeting led to the formation of an association that would evolve into the Associated Industries of New York State (AI), and eventually The Business Council of New York State, Inc.
The Business Council was founded in 1980 through the consolidation of what had been the state's two leading business associations, the Empire State Chamber of Commerce and Associated Industries of New York State, Inc.
The founding President and Chief Executive Officer was Raymond T. Schuler, a former New York State Commissioner of Transportation who had served as President of Associated Industries since 1977.
Daniel B. Walsh, the former Majority Leader of the New York State Assembly, joined The Business Council in May of 1987, and became President of the Council upon Mr. Schuler's retirement in 1988.
Kenneth Adams, previously president of the Brooklyn Chamber of Commerce, was selected by the Board of Directors in September 2006 to succeed Mr. Walsh as president and CEO effective November 1, 2006.
Heather C. Mulligan, the current President of The Business Council became president in 2012. She joined the Council in December of 2007 and has served as both acting president and as vice president of government affairs.
Prior to joining The Business Council, Heather was a consultant and lobbyist for Powers and Company, where she advised clients on a range of state and federal government relation issues.
Before joining Powers and Company, Heather served as an Assistant Counsel to the State Senate Majority, working on a range of issues, including economic development, budget reform, and consumer protection. She also worked for the Assembly Majority for several years, serving as a legislative aide and counsel to the Committee on Racing and Wagering.
The first Chairman of the Board of Directors was Frank T. Cary, Chairman and Chief Executive Officer of IBM Corporation.
Current Business Council Chairman
Donna DeCarolis, President, National Fuel Gas Corporation
Succeeding Chairs of the Council
Amory Houghton, Jr., of Corning Glass Works | Walter A. Fallon of Eastman Kodak | Edmund T. Pratt, Jr., of Pfizer, Inc. | John Bierwirth of Grumman | John A. Georges of International Paper | William C. Ferguson of NYNEX | John J. Creedon of Metropolitan Life | James R. Houghton of Corning, Inc. | James W. Kinnear of Texaco | William D. Matthews of Oneida Ltd. | Eugene R. McGrath of Consolidated Edison | Richard A. Jalkut of NYNEX | Daniel Gill of Bausch & Lomb | James H. Cleave of Marine Midland | Roger Ackerman, Chairman & CEO of Corning Inc. | Lewis Golub, Chairman & CEO of Golub Corporation | Peter I. Bijur, Chairman & CEO of Texaco | William F. Allyn, Chairman & CEO of Welch Allyn Ventures, LLC | Robert Catell, Chairman of KeySpan | Heidi Nauleau, Chairman of The Aarque Companies | Philip A. Teel, Sector Vice President, AEW & EW Systems, Northrop Grumman Corporation | Co-Chairs Kirk P. Gregg, Executive Vice President and Chief Administrative Officer, Corning Incorporated, Linda S. Sanford, Senior Vice President, Enterprise on Demand, IBM Corporation | Kevin Burke, Chairman, President and Chief Executive Officer, Consolidated Edison | David F. Smith, Esq., Chairman of the Board, National Fuel Gas Company | Co-Chairs David F. Smith, Esq., Chairman of the Board, National Fuel Gas Company, and G. Thomas Tranter, Jr., President, Corning Enterprises, Corning Incorporated | G. Thomas Tranter, Jr., President, Corning Enterprises, Corning Incorporated. | Co-Chairs Karen Boykin-Towns, Vice President, Corporate Affairs, Pfizer Inc., and Eric Mower, Chairman & CEO, Mower | Co- Chairs Denise V. Gonick, CEO & Director, MVP Health Care and Eric Mower, Chairman & CEO, Mower | Eric Mower, Chairman & CEO, Mower
Directions to The Business Council
Headquarters
111 Washington Avenue, Suite 400
Albany, NY 12210
518.465.7511
Corporate Woods
12 Corporate Woods Blvd., Suite 17
Albany, NY 12211-2390
518-465-1571
Links to Albany parking information, parking maps and other travel options