Join us November 8 – 9 in Saratoga Springs for our 2023 Annual Environment Conference! The Business Council's 2023 Environment Conference will provide updates on key Department of Environmental Conservation program sand regulations, covering areas such as carbon emissions, water quality, remediation programs, and other current compliance topics. Presentations from DEC leaders and industry experts will offer insights into current issues affecting business operations, including PFAS standards, permit reviews, environmental justice, disadvantaged community impact analysis, and more.
Additionally, we will have a session on Assuring an Effective Cap and Trade Program with lessons learned from California and Washington. We will also preview key legislative issues for 2024.
Wednesday, November 8
2:00 - 3:00 p.m.

Registration & Networking

3:00 p.m.
Welcome
3:00 - 5:00 p.m.

DEC Environmental Quality Program Updates

Updates from the major environmental quality programs on new and pending regulations & policy, emerging issues, key compliance/ enforcement issues, etc.

Moderator:

Panelists:

Air Permitting and CLCPA

Water

RCRA/ Remediation

5:30 - 7:00 p.m.

Welcome Reception

Thursday, November 9
8:00 a.m.
Registration
Continental Breakfast
8:55 a.m.

Welcome and Announcements

Kenneth Pokalsky, Vice President [BIO]
The Business Council of New York State, Inc.

9:00 - 9:55 a.m.

EJ and DAC Project and Permitting Practices

Moderator:

Kenneth Pokalsky, Vice President [BIO]
The Business Council of New York State, Inc.

Panelists:

9:55 - 10:50 a.m.

PFAS - Standards, Permits, Source Control and Regulations

Moderator:

Berj Parseghian, Partner [BIO]
Lippes Mathias LLP

Panelists:

10:50 - 11:05 a.m.
Refreshment Break
11:05 a.m. - 12:00 p.m.

Brownfield/ Superfund Update

Moderator:

Thomas Walsh, Partner [BIO]
Barclay Damon, LLP

Presenter:

Andrew Guglielmi, Director [BIO]
Division of Environmental Remediation
NYS DEC

12:00 - 1:15 p.m.

Luncheon & Keynote Address

NYS $4.2 Billion Clean Water, Clean Air and Green Jobs Environmental Bond Act Presentation

Suzanna Randall, Chief Resiliency Officer [BIO]
NYS DEC

1:30 - 2:30 p.m.

Assuring an Effective Cap and Trade Program - Lessons Learned from California and Washington

Moderator:

David Flynn, Partner [BIO]
Phillips Lytle LLP

Panelists:

Peter Godlewski, Government Affairs Director, Energy, Environment, and Water Policy [BIO]
Association of Washington Business
Rajinder Sahota, Deputy Executive Officer - Climate Change & Research [BIO]
California Air Resources Board
Mikhael Skvarla, Partner [BIO]
CA Lobby representing California Council for Environmental and Economic Balance
Mitchell Walk, Head of North America Power, Gas and Emissions [BIO]
Energy Aspects

2:30 - 2:45 p.m.
Refreshment Break
2:45 - 3:30 p.m.

2024 Legislative Preview

Panelists:

3:30 - 3:45 p.m.

Closing Remarks
| | Before 11/1/23 | After 11/1/23 |
| --- | --- | --- |
| Member | $399 | $425 |
| Non-Member | $499 | $525 |
*Single day pricing is available. Please contact Maribeth Riley at (800) 358-1202
Online registration is now closed. Walk ins are welcomed.
Cancellation & Refund Policy: You may cancel your registration up to seven days prior to the event. You will be refunded, less a $75 processing fee. Cancellations received after November 1, 2023, will not be eligible for a refund. The Business Council encourages you to send a substitute in your place if you cannot attend.
| | |
| --- | --- |
| Premier | Sold Out |
| Welcome Reception | $3,000 |
| Silver | $2,500 |
| Registration | $2,000 |
| Continental Breakfast | Sold Out |
| Session | $1,000 |
| | |
| --- | --- |
| Gold | $3,000 |
| Lunch (Up to Three Available) | $2,500 |
| Wine at Reception | Sold Out |
| Ben & Jerry's Ice Cream Break | Sold Out |
| Refreshment Break (One Available) | $1,500 |
Included with your Sponsorship:
Complimentary Conference Registration(s)
Post-conference List of Participants
Company logo displayed on website prior to event as well as outgoing emails promoting the event
Company logo displayed at event
Gold and Premier sponsorships include additional registrations and/or benefits
To become a sponsor, contact Gabby Lichtenberg at [email protected] or at 518.694.4471
Showcase what makes your organization among the best New York has to offer. Our exhibits will be open throughout the Conference. We build in exclusive time for attendees to mingle with exhibitors and where else can you put your product and brand in front of the state's leading environmental voices? Nowhere! Exhibitors receive one complimentary registration, plus up to two discounted registrations. and you get access to pre-and-post Conference Attendee lists.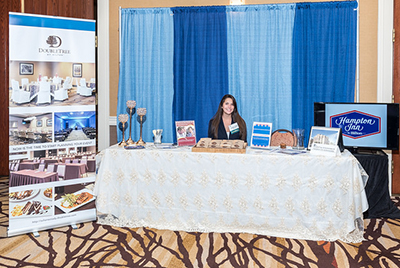 Standard Table $1,500
Located in the main hallway of the Conference Center
Gideon Putnam | 24 Gideon Putnam Rd, Saratoga Springs, NY 12866
If you need assistance with making a reservation, please contact Maribeth Riley at (518) 694-4468