The Business Council's signature event, the Annual Meeting, will once again take place at the beautiful Sagamore Resort in Bolton Landing this year, September 20-22, 2023. The event's theme is Meeting Tomorrow's Challenges, as we will focus on the issues that will impact New York's businesses for the next decade and beyond. This year's agenda focuses on Artificial Intelligence (AI) use in business practices, assessing and examining business opportunities under federal and state clean energy and green jobs initiatives, and expert analysis of the economy in 2024 and beyond.
Our new format for 2023 will allow attendees to balance their time between our impactful programming, recreational activities, and exceptional meal functions all allowing for prime networking with fellow attendees.
Register today, as you won't want to miss this signature event that will allow you and your company to become informed on the latest state policies while networking with business leaders from across the state.
Wednesday, September 20
10:30 – 11:30 a.m.

Board Investment Committee Meeting **

11:30 – 12:30 p.m.
Board Education / Workforce Development Committee Meeting **
1:00 – 2:30 p.m.
Joint Audit & Finance / Executive Committee Meeting **
1:00 – 5:30 p.m.

Registration Open

2:30 – 5:30 p.m.

Chamber Meeting
Chamber Executives Only

3:00 – 5:00 p.m.
Board of Directors Meeting **
5:30 – 6:00 p.m.
New & Anniversary Member Reception
Private Reception
6:00 – 8:30 p.m.

President's Reception

Remarks:

Honorable Thomas DiNapoli, Comptroller
State of New York

Entertainment: Blind Dog Dave and the Pirates
Featuring Governor David Paterson
**Board of Directors Only
Thursday, September 21
6:30 - 7:30 a.m.
5k Run
7:00 a.m. - 12:00 p.m.
Registration
7:30 a.m. - 12:00 p.m.
Exhibits Open
Networking Lounge & Prize Display
7:30 - 8:30 a.m.
Breakfast Buffet
8:30 - 8:45 a.m.
Welcome
Anniversary Awards Presentation
8:45 - 12:00 p.m.
Program
8:45 - 9:30 a.m.
2024 Economic Outlook

Curtis Dubay, Chief Economist [BIO]
U.S. Chamber of Commerce

9:30 - 10:30 a.m.

The Clean Energy Manufacturing Economy is Here:
How NY Industries Can Benefit

The U.S. clean-energy transition has been largely imported, with other countries making almost all the batteries, solar panels, and critical chemicals used to decarbonize electricity and other key parts of the economy. But with a global race for energy security, falling prices of key renewable technologies, and the passage of several key pieces of federal and state policy, the clean energy economy "boom" is ushering in never-before seen manufacturing investments and job creation in the domestic clean energy supply chain. This panel will highlight these trends, the wave of reinvestment going on within New York's own clean energy supply chain and draw on panelist insights and perspectives on how NY companies can expand and grow from this once-a-generation opportunity.

Moderator:

Panelists:

Supporting the EV Transitions

State Energy Policy & Market Development

The Future of Hydrogen Fuel

Subassemblies & Metal Fabrication for Renewable Energy Facilities

Supporting Growth of Clean Energy Supply Chain

10:30 - 10:45 a.m.
Refreshment Break | Visit the Exhibits
10:45 - 11:45 a.m.

AI: How AI Benefits our Economy and What Safeguards are Needed

Moderator:

Panelists:

12:30 - 5:00 p.m.
Recreational Activities | Free Time
12:20 - 5:00 p.m.

Golf (18 Holes)
Additional Fee of $130
Lunch included

2:00 - 3:30 p.m.

Sightseeing Cruise

Scenic tour of Lake George aboard The Morgan

2:00 - 3:00 p.m.

Culinary Demo

Sagamore Chef Cooking Demonstration

6:00 - 7:00 p.m.
Reception
7:00 - 9:30 p.m.

Dinner

Awards Presentation

Keynote Speaker:
Shelly Palmer, Professor of Advanced Media in Residence [BIO]
Syracuse University's S.I. Newhouse School of Public Communications and CEO, The Palmer Group

9:30 - 11:00 p.m.
Hospitality
Friday, September 22
7:00 a.m. - Noon
Registration
7:30 a.m. - Noon
Exhibits Open
Networking Lounge & Prize Display
7:30 - 8:30 a.m.
Breakfast Buffet
8:30 - 9:00 a.m.

President's Report

Heather C. Mulligan, President and CEO
The Business Council of New York State, Inc.

Annual Meeting of The Business Council Membership

Election of Directors

Donna DeCarolis, President
National Fuel Gas Distribution Corp.

9:00 - 10:00 a.m.

Government Affairs / 2024 Legislative Preview

10:00 - 10:15 a.m.
Refreshment Break
10:15 - 10:45 a.m.
What's New at SLA?

Lily M. Fan, Chair [BIO]
New York State Liquor Authority

10:45 a.m. - 11: 15 a.m.

The Rise of Political Investigations in the Last Decade

Public corruption cases, understandably, have long been a priority for investigative agencies and prosecutors. The challenge for law enforcement has always been how to pursue public corruption cases without unduly influencing elections. In New York we previously witnessed a series of prosecutions against leaders of the Legislature but arguably none of those prosecutions influenced an election. More recently, a series of prosecutions has signaled a fundamental shift in how prosecutors manage corruption cases in the context of elections. Andrew Cuomo was forced to resign in the face of an investigation into sexual abuse allegations by the Attorney General, who at the time was considered a prospective candidate for the Office of Governor. Donald Trump, who was Impeached twice now faces two federal indictments and a State indictment as a former President and declared candidate for the Office of President. Lippes Mathias' Government and Corporate Investigations team will discuss how public corruption cases are presently being handled and what the current round of investigations portend for the future.

Moderator:

Liz Benjamin, Managing Director, Albany Office [BIO]
Marathon Strategies

Panelists:

Michael G. Rossetti, Office Partner-In-Charge, Washington, DC, Team Co-Leader, Government & Corporate Investigations [BIO]
Karl J. Sleight, Partner, Albany, New York City & Saratoga Springs [BIO]
Dennis C. Vacco, Partner, Executive Committee & Co-Team Leader, Government & Corporate Investigations [BIO]
Lippes Mathias LLP

11:15 a.m. - 12:00 p.m.
Additional Programming to be Announced
12:00 p.m.
Conclusion / Wrap Up / Grand Prize Drawing
| Registration Type | 6/26/23 - 7/16/23 | 7/17/23 - 8/31/23 | After 8/31/23 |
| --- | --- | --- | --- |
| Member | $595 | $645 | $695 |
| Non-Member | $695 | $745 | $795 |
| Chamber Executive | $395 | $445 | $495 |
| Spouse | Guest | $395 | $395 | $445 |
| Golf | $130 | $130 | $130 |
You must be registered for the Annual Meeting to participate in our golf tournament or other recreational activities.
Online Registration is Closed
Cancellation Policy: You may cancel your registration until Friday, September 8, 2023. You will be refunded, less a $75 processing fee. Cancellations received after September 8, 2023, will not be eligible for a refund. We encourage you to send a substitute in your place if you cannot attend. Hotel cancellations must be made directly with The Sagamore. Please refer to your confirmation from The Sagamore for their cancellation policy.
Please note, as our Room Block is close to being sold out, there are limited room types available.
All hotel reservations must be made by September 1st, 2023, in order to receive the group rates.
The Sagamore Resort Reservations- The Business Council- September 20-22, 2023
Your reservation can be made using this link
Click "Select Dates" & enter "Arrival & Departure" dates & "Number of Guests" and click "Check Availability"
Click on "Room Types" and select desired room type(s)
Complete the reservation by filling in your contact and billing information. Fields in bold are required.
Guests can also make their reservation via The Sagamore's website.
Simple click "Book Now" on the upper right-side corner of the screen
Select Code Type "Group/ Block Code"
Enter Group/ Block Code: 0923BCNYS1
Click "Check Availability"
Click "Select Dates" and enter Arrival & Departure dates, and # of guests
Should guests require special assistance, they may call The Sagamore's reservation department directly at 866-385-6221 and identify themselves as being with: The Business Council
We also have rooms available at the Fort William Henry Hotel for $199. Please call 1-800-234-0267 and mention NYS Business Council to receive the special rate.
More Lake George lodging options can be found here.
The Business Council is THE business association in New York State. By sponsoring our Annual Meeting your organization's name and logo will be front and center in the minds of the state's leading voices in business, government and media. Our conference development team will work with YOU to:
Build awareness for your company/organization.
Grab the attention of our diverse membership that simply cannot be found anywhere else.
Associate your brand with New York's other best and brightest.
Our members hail from across the state and represent all industries — our reach and the caliber of our membership simply cannot be matched. Annual Meeting attendees are already in prime deal-making mode, your sponsorship WILL deliver results.
As a sponsor of The Business Council's Annual Meeting, you can increase your visibility before the top business leaders in New York State. Sponsorships range from our unique outdoor corporate banners to a wide array of event and activity levels. We invite you to share in this exciting member showcase by taking advantage of one or more of our unique sponsorship opportunities.
Have an idea you don't see here? Will work with you to craft the perfect opportunity!
Have questions or need more information? Contact Maribeth Riley at [email protected] or at 518.465.7511.
*Prices listed are for members of The Business Council. If you're not a member and are interested in sponsoring, please contact Maribeth Riley.
CONFERENCE SPONSORSHIP LEVELS
| | |
| --- | --- |
| Premier | $30,000 |
| Gold | $20,000 |
| Bronze | $10,000 |
| Ambassador | $3,500 |
| | |
| --- | --- |
| Platinum | $25,000 |
| Silver | $15,000 |
| Champion | $5,000 |
| | |
| --- | --- |
| Keynote Speaker | $25,000 |
| Hotel Key | Sold Out |
| Presidents' Reception (Wednesday) | $10,000 |
| Breakfast | Sold Out |
| Wine @ Reception | $4,500 |
| Hospitality (Thursday) | Sold Out |
| Ben & Jerry's Cart | Sold Out |
| Networking Lounge | Sold Out |
| 5k Run | Sold Out |
| Boat Cruise (Refreshments) | Sold Out |
| | |
| --- | --- |
| Dinner (Thursday) | $15,000 |
| Reception (Thursday) | $10,000 |
| Registration | Sold Out |
| Wine @ Dinner (Thursday) | Sold Out |
| A/V Sponsor | $4,000 |
| Event App Sponsor | Sold Out |
| Session Sponsor | $3,000 |
| Refreshment Break | Sold Out |
| Golf Sponsor | Sold Out |
| Culinary Demo | $2,000 |
| *multiple sponsorships available | |
Our exhibits are open through the two-days of event programming. We build in exclusive time for attendees to mingle with exhibitors and showcase what makes your organization among the best New York has to offer. Where else can you put your product and brand in front of the state's leading business voices? Nowhere! Exhibitors receive complimentary Annual Meeting Registration, plus up to two discounted registrations. And you get access to pre-and-post Conference Attendee lists.
Contact Danielle Gormley at danielle.gorm[email protected], or at 518.465.7511, to become an exhibitor today!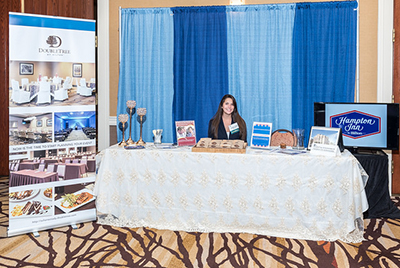 Standard Table $2,000
Located in the main hallway of the Conference Center
The prize program is a popular feature of the Annual Meeting and provides a fun and exciting way for companies to showcase their product to Business Council members attending from across the state.
We are seeking donations of unique and interesting prizes to include in our Networking Lounge. All prizes will be displayed, and the companies will be recognized for their contribution throughout the course of the Annual Meeting.
If you are willing to donate gift card(s) or a prize basket with promotional items specific to your company, please contact Danielle Gormley or call 518.465.7511, ext. 233.