The Corning Award for Excellence
The most prestigious award presented by Corning Incorporated and The Business Council of New York State, Inc., is a magnificent piece of original Steuben Glass, handcrafted by masters in Corning, New York, and given each year to a New Yorker who has demonstrated an outstanding level of accomplishment and a deep and sustaining commitment to the people of New York State.
---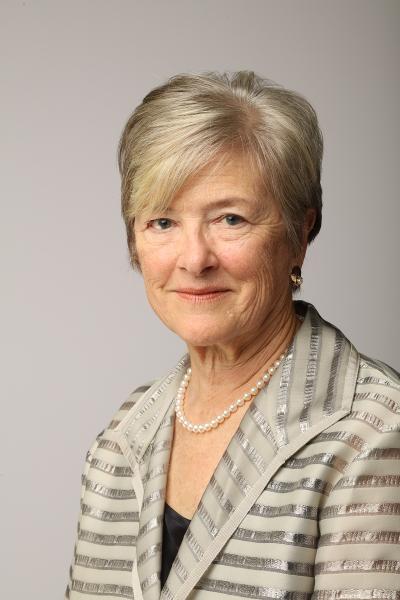 Congratulations to Our 2023 Corning Award Winner:
Kathryn Wylde
---
Kathryn Wylde is the President and CEO of the Partnership for New York City, a nonprofit organization whose members are the city's global business leaders and major employers. The Partnership's mission is to mobilize private sector resources and expertise to advance New York City's standing as a global center of economic opportunity, upward mobility, and innovation.
Kathryn is an urban policy expert and represents the business community on issues that impact the economy and public policy more generally. She has written numerous opinion and policy papers and has been widely recognized for her leadership by educational, professional, and nonprofit institutions.
She serves on many boards and advisory groups, including the Fund for Public Schools, Invest Puerto Rico, Manhattan Institute for Policy Research, NYC & Co., NYC Economic Development Corporation, and the NYC Regional Economic Development Council.
Prior to taking over as Partnership CEO in 2000, Wylde was the founding CEO of both the Partnership's investment fund and housing affiliates. From 1995-2000, Wylde worked with Henry Kravis and Jerry Speyer to establish and manage the Partnership Fund for New York City, a civic fund that is capitalized with $170 million in private contributions.
From 1982 to 1995, Wylde was responsible for developing and managing affordable housing and economic development programs that contributed to the renaissance of blighted urban neighborhoods across the five boroughs. The New York City Housing Partnership was the sponsor of the city's New Homes and Neighborhood Builders programs, producing more than 35,000 units of new, owner-occupied housing and of the Neighborhood Entrepreneurs Program, which enabled more than fifty minority and women-owned firms to purchase and rehabilitate apartment buildings that were formerly owned by the city.
Before joining the Partnership, Wylde worked in senior positions at the former Anchor Savings Bank and at the former Lutheran Medical Center in Sunset Park, Brooklyn. She is a native of Madison, Wisconsin.
Previous Corning Award Winners:
Eric Mower (2022); G. Thomas Tranter (2021); H. Carl McCall (2020); Nancy L. Zimpher (2019); Stanley S. Litow (2018); Brian T. McMahon (2017); Michael J. Doyle (2016); David F. Smith (2015); Roger A. Hannay (2014); Kevin Burke (2013); Kirk P. Gregg (2012); Linda S. Sanford (2011); James R. Houghton (2010); Paul Speranza Jr. (2009); Joseph L. Bruno (2008); Alair Townsend (2007); Robert Catell (2006); Daniel A. Carp (2005); Amo Houghton (2004); Lewis Golub (2003); Carl T. Hayden (2002); Roland W. Schmitt (2001); Richard P. Mills (2000); Erland E. Kailbourne (1999); Robert B. Wegman (1998); Judith S. Kaye (1997); John J. Phelan, Jr. (1996); Barber B. Conable, Jr., (1995); James W. Kinnear (1994); Muriel Siebert (1993); Hugh L. Carey (1992); David Harden (1991); Raymond T. Schuler (1990); Warren M. Anderson and Stanley Fink (1989); Edmund T. Pratt, Jr. (1988); James D. Robinson III (1987); Franklin A. Thomas (1986); Kitty Carlisle Hart (1985); Frank T. Cary (1984); Clifton Garvin (1983); David Rockefeller (1982); Richard R. Shinn (1981); Melvin C. Holm (1980); and Walter A. Fallon (1979).