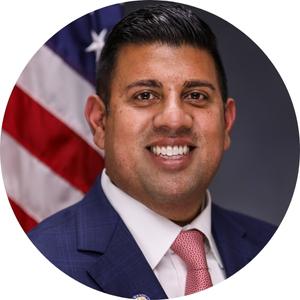 Senator Jeremy A. Cooney
New York State Senate District 56
Senator Cooney was adopted from an orphanage in Kolkata, India and raised by a single mother in the City of Rochester. He made history in 2020 as the first Asian American elected to state office from upstate New York, and the first state senator in decades to graduate from Rochester City School District (RCSD).
During his first year in office, Senator Cooney wrote over 50 legislative bills and served as the first chair of the new Cities II Committee, which focuses on upstate cities and those outside NYC.
Senator Cooney was named co-chair of the Marijuana Task Force for the Black, Puerto Rican, Hispanic & Asian Legislative Caucus and he was instrumental in passing landmark legislation to legalize adult-use recreational marijuana.
The final phase of the Rochester School Modernization Project (RSMP), a bill that Senator Cooney sponsored and strongly advocated for, passed after years of delays in the legislature. The RSMP will be one of the largest public works projects in Rochester's history with nearly half a billion dollars going towards updating learning environments for RSCD students.
Senator Cooney's priorities for Rochester include poverty relief, job creation, downtown development, and increased funding for public schools. He was included in City & State magazine's "40 Under 40" list and the "Power of Diversity: Asian 100" powerful leaders list for 2021.
Senator Cooney began his career working on Capitol Hill for the late U.S. Congresswoman Louise Slaughter and later served in the role of chief of staff for the Mayor of Rochester. Prior to running for public office, Senator Cooney served as the senior director for community relations with Empire State Development (ESD) under the New York State Governor. At ESD, he helped lead public affairs for large scale economic development projects.
Senator Cooney is active in Rochester and the Finger Lakes Region. He sits on the Board of Trustees for his alma mater, Hobart & William Smith Colleges, and is a member of the Vestry for Christ Church Rochester (Episcopal). He is a proud Eagle Scout and serves as a Vice Chair of the Executive Board for the Boy Scouts of America, Seneca Waterways Council.
Senator Cooney earned his B.A. with honors from Hobart College and his J.D. from Albany Law School. He is married to Dr. Diane Lu, a urologic surgeon at the University of Rochester Medical Center.
---
Speaker | 2022 Annual Meeting | Looking Forward
Thursday, September 22, 2022 | 1:00 PM
Government Affairs | 2023 Legislative Preview