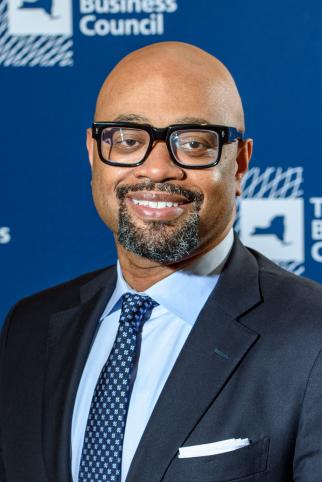 Senior Director of Government Affairs
Melvin Norris, Senior Director of Government Affairs, is responsible for issues related to Economic Development, Construction, Transportation and MWBE.
In his position with The Business Council, Melvin is responsible for all aspects of legislative and regulatory advocacy on energy and environmental policy including direct advocacy with the state legislature and regulatory agencies as well as federal and municipal advocacy. Melvin also oversees the Construction Industry Council and advocacy on behalf of our MWBE members.
Before joining The Business Council, Mr. Norris served as the Executive Vice President of the Harlem Community Development Corporation and oversaw New York State's economic and community revitalization initiatives to the greater Harlem community. Raised in Harlem during an era that experienced unrelenting challenges to the fabric of modern urban society, he relied on that experience to lead the organization in advancing small business development, tourism and workforce development. Mr. Norris created the Corporation's most utilized program called the THINK initiative (Tools for Harnessing Information Networking and Knowledge) which provides guidance to small business on marketing, small business lending and technical assistance. Under his management, the Corporation increased Minority/Women's Business Enterprise certifications to further the Governor's contracting goal.
After his graduation from Syracuse University's Maxwell School of Citizenship and Public Affairs, Melvin began his public service career. In the NYC Mayor's Office of the Criminal Justice Coordinator, he monitored policies and programs that affected the delivery of services within the juvenile justice system. During his tenure he secured millions of dollars in aid for urban projects and initiatives, including $8 million in federal funding for juvenile delinquency prevention programs.
Shortly thereafter, he became the Deputy Chief of Staff for U.S. Representative Charles B. Rangel, and built coalitions between government and community leaders to develop policy agendas. After his work in the U.S. House of Representatives, he became the Deputy Director of Public Policy and Government Affairs with Verizon Communications. He represented Verizon before the New York State Legislature and the New York City Council to secure support for their cable franchise process. He then served as a Senior Account Executive at Yoswein New York Governmental Affairs where he lobbied at both the City and State levels for educational, institutional, and not-for-profit clients including the Brooklyn Chamber of Commerce, Two-Trees Management, Related Companies, and National Grid.
Mr. Norris was appointed by Governor Andrew M. Cuomo to be the Director of the New York State Department of Environmental Conservation's Office of Environmental Justice. He headed the Department's statewide advocacy and legislative efforts to ensure fair and equitable treatment of minority and low-income communities on a wide range of environmental issues. This included the execution of the North River Consent Order, which resulted in an Environmental Benefit Project for the communities of West Harlem and Hamilton Heights.
Melvin understands how role models play in the development of young lives based on his own experience. As a result, he is committed to helping young people access their full potential. As a member of Alpha Phi Alpha Fraternity Inc., he mentors in the Alpha G.E.N.T.S. (Gaining Essential Networking Tools for Success) program and participates in Job Shadow Day events. He is a former mentor with Minds Matter, an organization that connects low-income students to educational opportunities. A former Board member of the Boys and Girls Club of Harlem, he advanced efforts that resulted in the conversion of P.S. 186 into housing and community space, which is the new home of the Club.
With over 20 years in the public and private sector, Melvin worked to empower inner-city men to overcome the unique challenges and inequities they face through education with a personal commitment to mentorship and public service. He was named City Hall Newspaper's 40 Under 40 Rising Stars and resides in New Rochelle.
Melvin can be reached at [email protected].