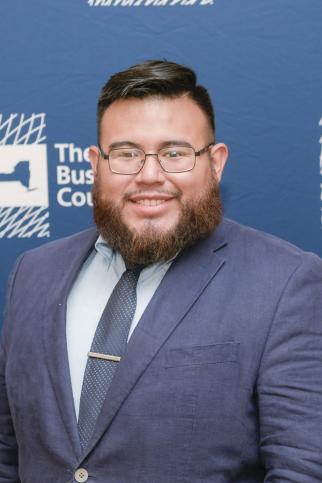 Assistant Director of Government Affairs
The Business Council of New York State
Mario Vazquez is the Assistant Director of Government Affairs, responsible for The Business Council's Community Engagement Committee, and assisting with all legislative advocacy initiatives.
Mario is a local to the Capital Region, growing up in the town of Schodack. While in high school, Mario participated in the Angelo Del Toro Puerto Rican/Hispanic Youth Leadership Institute (PRHYLI). The program is run through SOMOS, Inc. and teaches Hispanic high school students across New York State about advocacy and parliamentary procedures of the New York State Assembly. Since graduating high school, Mario has continued to be part of the program serving as a volunteer trainer each year. Mario strongly believes programs like these, that show youth how to be civically engaged and how to advocate for themselves and others, are key in helping develop youths professionally and personally. As a trainer, Mario assists students in understanding parliamentary procedures and helps students develop skills such as public speaking, research, and writing.
Through PRHYLI, Mario met former Assembly Member Marcos Crespo and began his career in government during the 2017 legislative session as the Assembly Member's Legislative Aide. Assisting the Assembly Member with research and legislative record keeping, Mario also assisted with setting up meetings between constituents and interest groups with Assembly Member Crespo. Prior to joining The Business Council, Mario was the Chief Administrator at the private lobbying firm Excelsior Advisors. In that capacity, Mario worked closely with the CEO of the firm to develop legislative strategies and assisted with day-to-day operations of the office, and legislative tracking and research.
Mario obtained a BA in Political Science from SUNY Albany.