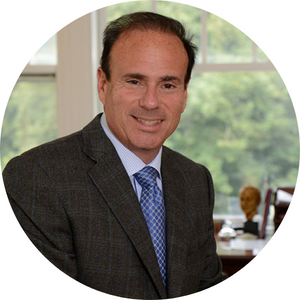 Jay Jacobs
Chairman
New York State Democratic Committee
Jay Jacobs was first elected to the position of Nassau County Democratic Chairman in October of 2001. Since becoming Chairman, the voters of Nassau County have re-elected a Democratic Majority in the County Legislature in 2001, 2003, 2005, and 2007, and have elected two Democratic County Executives, two District Attorney's, two County Comptrollers, three Town Supervisors, and a County Assessor. In 2005, Jacobs and the committee made history by helping to elect Kathleen Rice, who became the first ever female District Attorney in Nassau.
In 2017, Chairman Jacobs and the Nassau County Democratic Committee continued to make history in helping to elect the first female County Executive and the first Democratic Supervisor in the Town of Hempstead's history. In 2018 the Nassau County Democratic Committee swept all five New York State Senate Races in Nassau County, helping to switch the balance of power in the chamber from Republican to Democratic control. In doing so, they elected the first ever Iranian-American New York State Senator, and the first ever Indian-American New York State Senator.
Under Jay's leadership, the Nassau County Democratic Committee has raised more money and elected more Democrats than ever before. Because of the political successes orchestrated by Jacobs and the County Committee, Nassau County now has a more diverse group of elected officials and judges than ever before. Nassau County, for more than a century, a bastion of Republican Organizational prowess – the suburban county Ronald Reagan once described as "Heaven" where Republicans go after they die, is now Democratic.
Jay Jacobs served as the Chairman of the New York State Democratic Committee from 2009-2012, and returned to the post in 2019 after being recommended by Governor Cuomo. He is the first ever New York State Democratic Chair to hold the position twice. Chairman Jacobs also serves as an At-Large member of the Democratic National Committee, recommended by President Barack Obama.
Jay Jacobs is the CEO and major owner of the TLC Family of Camps & Inns which includes three sleep-away camps, three day camps, a pre-school, and two country inns. Some of his past professional affiliations include serving on the New York State Camp Health and Safety Council, President of ACA's NY section, and President of the New York State Camp Directors Association. He is the founder of SCOPE (Summer Camp Opportunities Promote Education), a program that sends inner city children to not-for-profit camps. In 2001, Jay founded and currently serves as Chairman of Project Heal the Children, an ACA program that provides free summer camp experiences for the children of victims of the 9/11 tragedy.
---
Speaker | 2022 Annual Meeting | Looking Forward
Friday, September 23, 2022 | 9:30 AM
November Elections