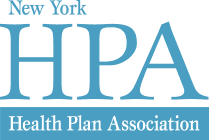 Eric Linzer
President & CEO | New York Health Plan Association
In January 2018, Eric Linzer became president and CEO of the New York Health Plan Association (HPA), an Albany-based organization that represents 28 health plans in New York State. These plans provide comprehensive health care coverage to more than eight million New Yorkers.
As the chief executive of HPA, Eric is responsible for development of policy positions for the organization, advocacy with the executive and legislative branches of government, and serves as lead spokesperson to the media and the public on issues relating to the managed care industry.
Eric came to HPA from the Massachusetts Association of Health Plans (MAHP) where he spent 15 years, most recently serving as executive vice president, where his responsibilities encompassed overseeing a wide range of operational activities as well as legislative and regulatory issues, outreach to business groups and brokers, and media relations and communications.
Prior to joining MAHP in 2002, Eric was an account supervisor in the public relations division of Arnold Worldwide and worked in the public affairs department of Harvard Pilgrim Health Care. He holds a JD from Suffolk University Law School, a Master's degree in Political Science from Suffolk University and earned his Bachelor's degree from Boston College.
Eric has been named to City & State's 2019 Health Power 50 and its 2020 Health Power 100, as well as City & State's Albany Power 100, recognizing the 100 most powerful people in Albany. He is also a past recipient of the Massachusetts Medical Law Report's Leader in Quality – Rx for Excellence Award.
---
Annual Meeting 2020 | Virtual [AGENDA]
What's Next for Employers
Friday, September 25, 2020
10:00 - 11:15 AM