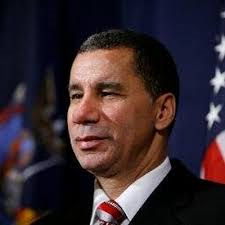 Honorable David Paterson
55th Governor of New York State
David Alexander Paterson became the 55th Governor of the State of New York on March 17, 2008.  In his first address as Governor, he spoke about the challenges facing New York and his plans to build a better and brighter future for all citizens.  He was ahead of the national curve in predicting and acting on the state's fiscal downturn.
During Governor Paterson's 2008 inaugural address, he foretold of an impending national fiscal crisis and collapse.  This forecast compelled New York's Legislature to convene for a special session in August 2008.  As a result of this session, the state reduced its deficit by $2 billion and mitigated further devastating financial upheaval, allowing it to maintain its credit rating for the duration of his term.  He enacted legislation attaching severe criminal penalties to predatory lending and reduced New York's fiscal deficit by nearly $40 billion.  One of his greatest achievements was establishing a new budget process that has yielded on-time budgets since he left office.
David embodies a rare combination of skills, including a unique understanding of marketplace drivers and surrounding events.  He earned his B.A in History from Columbia University and his J.D. from Hofstra Law School.
Prior to becoming New York State's 55th governor in March 2008, David began his political career when he was elected to represent Harlem in 1985 at the age of 31, making him the third youngest state senator in New York's history.  In 2002, he was elected as Minority Leader of the New York State Senate, becoming the first African-American and blind legislative leader in the state's history.  Among his many other accomplishments and distinctions, he was honored to address the 2004 Democratic National Convention.
In 2014, David was appointed as Chairman of the New York State Democratic Party and served on the Board of the Metropolitan Transportation Authority.  He was previously an adjunct professor of government at New York University and later joined the faculty at Touro College.  He consulted for three years for the Durst Corporation and the National Federation of the Blind and currently chairs the Board of the Achilles Track Club.   David has also hosted popular drive-time talk radio shows on WOR-AM and WNYM-AM in New York City and is a highly sought-after speaker, frequently appearing as a guest commentator on nationally broadcast news-related programs.  He was the Director/Investments with the Stifel Investment Services Moldaver Paterson & Lee Group
David is currently, Senior Vice President and Senior Advisor to the President and COO at Sands Las Vegas.

2021 Annual Meeting | Back to Business
Friday, September 24, 2021 | 9:30 - 10:30 AM
An Insider's View from the Outside