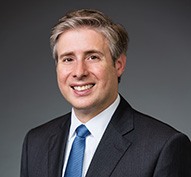 Eric J. Stock
Partner
Gibson Dunn & Crutcher LLP
Eric J. Stock is an antitrust litigation partner in the New York office of Gibson, Dunn & Crutcher. Mr. Stock's practice focuses on antitrust litigation and investigations, especially for clients in the pharmaceutical, financial services, high tech, and health care industries.
Prior to joining Gibson Dunn, from 2013-2016, Mr. Stock served as Chief of the Antitrust Bureau at the New York Attorney General's Office ("NYAG"). In that role, he was responsible for overseeing the enforcement of New York State's antitrust laws and representing the interests of New York and its consumers in national antitrust matters. During Mr. Stock's tenure at NYAG, he served as lead counsel and lead trial attorney for New York in several noteworthy antitrust litigation matters and supervised dozens of antitrust investigations led by the state.
For example, Mr. Stock served as lead trial counsel for New York in the trailblazing New York v. Actavis case (Namenda), where the NYAG successfully challenged an effort by a pharmaceutical company to impede generic entry for a billion-dollar Alzheimer's drug by means of conduct sometimes referred to as "product hopping." Mr. Stock also served as lead counsel for New York in the successful lawsuit brought by New York and the U.S. Department of Justice challenging an allegedly anticompetitive merger of Manhattan tour bus operators. In his role at the NYAG, Mr. Stock also had extensive experience partnering with the U.S. Department of Justice and Federal Trade Commission in joint federal and state investigations of proposed mergers or other business conduct.
During his time at NYAG, Mr. Stock regularly worked with other state AG offices throughout the country on antitrust or related complex business litigation issues. In addition, in early 2016, Mr. Stock served as NYAG's Acting Executive Deputy Attorney General for Economic Justice, a position which supervises much of the office's business-related affirmative litigation, including cases filed under the Martin Act and state deceptive practices laws.
Mr. Stock has been recognized as a leading antitrust lawyer by publications such as Chambers USA, Global Competition Review, The Best Lawyers in America®, and Law360. He graduated magna cum laude from Harvard Law School in 1998.
2021 Annual Meeting | Back to Business
Thursday, September 23, 2021 | 8:45 - 9:45 AM
New York's Antitrust Reform Proposal: Abandoning Consumer-centric Antitrust Law