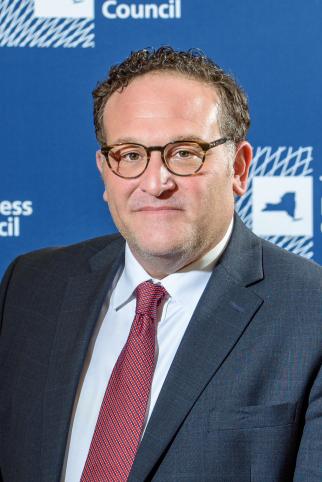 Counsel to The Business Council
Lev Ginsburg, Esq., Counsel to The Business Council, is responsible for The Business Council's advocacy on Financial Services, Legal Reform, Health Care and Health Insurance issues as well as running the Council's Amicus Curiae program.
Lev sits on the Board of Governors for the New York Compensation Insurance Rating Board and the New York Workers' Compensation Board's Medical Advisory Committee. Most recently, he led The Business Council's successful 2017 legislative campaign to reform New York's workers' compensation system, saving hundreds of millions of dollars annually for New York's employers.
His experience in both the private and public sectors have helped shape Lev's advocacy and legal practice. For seven years he served as an attorney and then staff supervisor with the former New York's Governor's Office of Regulatory Reform (GORR). At GORR, Lev handled stakeholder outreach and regulatory oversight over most State regulatory agencies. This oversight work put him in direct contact with a broad range of regulatory topics, agency staff as well as stakeholders throughout New York.
While in the private sector, Lev worked for T-Mobile Communications, handling real estate leasing, zoning and title issues, where he had first-hand experience in understanding and solving the regulatory issues faced by large employers. Prior to that, Lev coordinated political campaigns and fund-raising efforts. He began his career serving as a staff member for U.S. Senator Arlen Specter in Washington, D.C.
Lev has served and continues to serve on a number of community not-for-profit organization boards. He has presented numerous Continuing Legal Education programs and is a regular public speaker on a wide range of topics that impact business. Lev was a 2013 recipient of City & State's "Rising Stars under 40" award for his work in preparing businesses for changes in law related to the Affordable Care Act.
Lev received his J.D. from Yeshiva University's Benjamin N. Cardozo School of Law and his B.A. in history from the University of Buffalo.
You can contact Lev at [email protected]