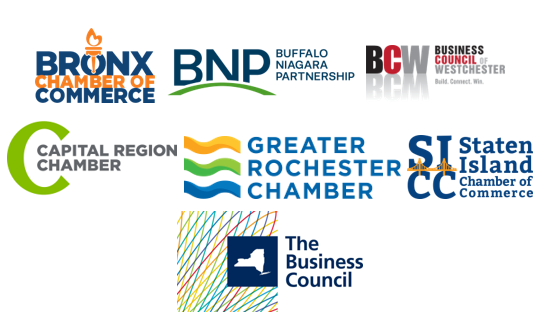 The Business Council of New York State, the Buffalo Niagara Partnership, the Business Council of Westchester, the Bronx Chamber of Commerce, the Capital Region Chamber, the Greater Rochester Chamber, and the Staten Island Chamber of Commerce are hosting a two-day Washington DC Fly-In event. Join us in our nation's capital as we meet with prominent members of Congress, including various New York State delegation members. The state-wide business agenda focuses on topics important to New York State employers, including Antitrust, Energy, Infrastructure, and Workforce Development.
Invited speakers and attendees for the reception and meeting will be members of the New York State delegation. We will update this page as we confirm speakers.
WEDNESDAY, JUNE 21
5:00 - 7:00 p.m.

Welcome Reception - Monocle Restaurant

Invited reception guests (informal meet & greet): Entire New York State delegation.

Confirmed guests include - **Subject to change based on congressional schedule

The Honorable Adriano Espaillat
The Honorable Andrew Garbarino
The Honorable Mike Lawler
The Honorable Nicole Malliotakis
The Honorable Grace Meng
The Honorable Marc Molinaro
The Honorable Joseph Morelle
The Honorable Claudia Tenney

Invited Guest Speakers: Members in leadership positions:

United State Senator Kirsten Gillibrand. - Scheduled to Attend
THURSDAY, JUNE 22
8:00 - 10:00 a.m.

Breakfast, U.S. Chamber

The U.S. Chamber of Commerce will host attendees for a working breakfast to discuss issues important to New York State businesses. The Chamber will provide an overview of the topics they are working on for employers and where those issues stand within congress.

11:00 a.m. - 2:00 p.m.

Meetings with New York State Congressional Members, Capitol Hill

Meeting with invited members of the New York State delegation who have an interest in the policy agenda impacting state employers. Invited members include:

Ed O'Keefe, Senior White House and Political Correspondent, CBS News -

CONFIRMED

House Minority Leader Hakeem Jeffries -

Policy Advisor, Tonia Wu, Confirmed

Representative Joseph Morelle (Rochester) -

CONFIRMED

House Appropriations Committee
Representative Jerrold Nadler (Manhattan) -

CONFIRMED


House Judiciary Committee
Representative Brandon Williams (Central New York) -

CONFIRMED

House Committee on Transportation & Infrastructure
* The list of scheduled congressional speakers is subject to change based on availabilty.
** Lunch will be provided.
BEFORE 6/13/23
AFTER 6/13/23
Fee
$99
$129
Please be advised, both members and non-members of The Business Council now have logins to our website. You will be required to log into the website to register for this event. If you do not remember your login, or are unsure if you have a login, please try resetting you password first.
If you are certain you do not have an account, or the system cannot find your email address when trying to reset your password, sign-up for an account.
Once you have setup your account and verified your email address, you may continue with registration for the meeting.
Cancellation Policy:
You may cancel your registration up to seven days prior to the event. You will be refunded, less a $25 processing fee. Cancellations received after June 13, 2023, will not be eligible for a refund. We encourage you to send a substitute in your place if you cannot attend.
Capitol Hill Hotel
200 C Street SE
Washington, D.C. 20003-1909
Hotel Website
A block of rooms has been reserved for the night of Wednesday, June 21. Please use the link below or call 202-448-2097 and request the rate for the New York State Chambers DC FLY-IN.
Click here to make your reservation online. When using the link, you must choose the check-in date, check-out date, and select "confirm dates of stay".
Hotel reservation deadline is Monday, May 22, 2023. Please be sure to make your reservation by this date, as our block of rooms will be released after that date and the discounted room rate may not be available.
Room Rate: $309.
Please note that this is a busy time in Washington, D.C. so we encourage you to reserve your room in our group.
Hotel Cancellation Policy:
Individual reservations must be cancelled no later than 3:00 p.m., 72 hours prior to arrival date to avoid a one (1) night cancellation charge.
Create awareness of your company, broaden your visibility and reinforce your image. Contact Maribeth Riley at [email protected] or call (518)694-4468.