The Business Council of New York State is committed to providing safe, friendly, and entertaining events especially as we slowly transition back to in-person gatherings. For everyone's health and safety we will follow all New York State guidelines currently in place. As guidelines are updated we will follow accordingly. If you have any questions feel free to contact Maribeth Riley, Director of Conference Development.
Join fellow golf and baseball enthusiasts for The Business Council's 13th Annual Member Golf Classic! Attendees will experience unrivaled play on the beautiful Leatherstocking Golf Course, the world-class hospitality of The Otesaga Resort Hotel, mingle with our former professional baseball player, and experience American history at the National Baseball Hall of Fame, all in Cooperstown, New York.

Following a day of golf, competition and camaraderie, relax and network at The Otesaga during our awards dinner. Then, join our state's business leaders on a quaint trolley ride from The Otesaga to the National Baseball Hall of Fame. There, you will be treated to a first-class dessert reception, private access to the Hall of Fame Gallery, and hear from our guest of honor Dwight "Doc" Gooden!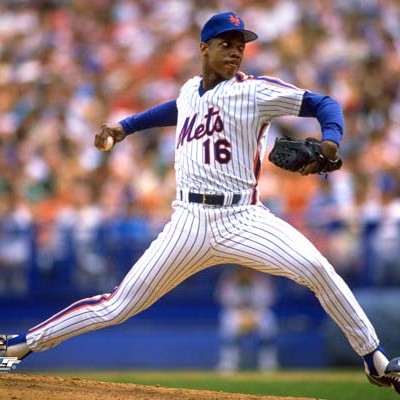 Dwight "Doc" Gooden
Dwight Gooden was one of the most dominant pitchers in baseball history.
Gooden reached new heights when he was the youngest recipient ever of Major League Baseball's Cy Young Award and the pitcher's Triple Crown.
Dwight Gooden, also known as "Doc" or "Dr. K", made his professional debut in the 1980s and rose to fame with the New York Mets. In 1984, at the mere age of 19, his powerful fastball and snapping curves astounded hitters he quickly became a national sensation. During his rookie year, Gooden flourished as the youngest player to be in an All-Star game and finished the year by leading the league in strikeouts. Predictably, he was voted Rookie of the Year.
The following year, Gooden produced one of the most statistically amazing seasons in baseball history, going 24-4 with 16 complete games, eight shutouts and 268 strikeouts in 276 2/3 innings with a miniscule 1.53 ERA. This season rightfully earned him the pitching Triple Crown along with the prestigious Cy Young Award.
During the Mets' World Series season of 1986, Gooden finished the year with a 17-6 record and a 2.86 ERA. He was the ACE of the pitching staff and helped the Mets win their first World Series since 1969. One of his many career highlights came in 1996 where he threw a no-hitter for the New York Yankees and went on to win two more World Series Rings while wearing the pinstripes.
Gooden ended his 16-year career with 194 wins, an ERA of 3.51, and 2,293 strikeouts in 2,800 2 /3 innings. On August 1, 2010 Doc was inducted into the New York Mets Hall of Fame. He is one of the most beloved figures in New York sports history.
Gooden is now an active spokesperson, helping to raise millions of dollars for Breast Cancer and Cancer Research, and serves as an ambassador for the NephCure Kidney International, Inc.

10:30 a.m.
Registration
11:30 a.m.
Lunch
12:30 p.m.
Shotgun Start (scramble format)
6:00 p.m.
Networking
Dinner | The Otesaga Resort Hotel

Dessert Reception | Baseball Hall of Fame
Featuring Dwight "Doc" Gooden
| Fees and Package | Before 7/13/21 | After 7/13/21 |
| --- | --- | --- |
| Member | $350 | $400 |
| Non-Member | $450 | $500 |
| Dinner Only (limited space) | $150 | $175 |
| Foursome | $1,375 | $1,475 |
| Bogey - Foursome Flag &Tee | $1,750 | $1,850 |
Price includes lunch, greens fees, carts, pre and post dinner receptions, dinner, plus on course contests and more!

Cancellation Policy
Cancellations are subject to a $50 processing fee. No refunds after Tuesday, July 13.
In the event of rain, evening events will still be held.
COVID-19 Accommodations: The Business Council will provide a full refund upon request due to changes in federal, state and local regulations.
From tee signs to scorecards, from trolleys to ice cream – there's something for everyone when it comes to sponsorship opportunities this year. Our diverse menu of sponsorships provides you with a plethora of opportunities to give your business tremendous exposure. Put your name and logo on all the golf carts or even the souvenir photo frames!
Take advantage of the Bogey-Foursome discount and get a tee sign and flag. Foursome discount includes lunch, carts, greens fees, and evening events for all four golfers. Bring your clients or colleagues.
Our members come from all across the state and represent all industries. No other organization gives you the opportunity to spend time with the caliber of members that we do. Whether it's lunch, photos, wine at dinner, or the transportation to the Hall of Fame, your sponsorship matters and makes a big impact.
Purchase a Sponsorship

Have a sponsorship idea or question? Contact Maribeth Riley at [email protected].
Evening with Doc Gooden - $7,500
Sit with our guest of honor and be recognized at our awards dinner. Introduce the guest of honor at the dessert reception.
Dinner Sponsor - $5,000
Recognition as a sponsor of Dinner. Opportunity to sit with our guest of honor at the awards dinner.




Lunch - $4,000
All guests will thank you for providing them with lunch before they hit the links.


Beverage Cart -

Sold Out


Cold beverages on the course are a major part of any productive round of golf!


Photo Booth - $3,000
Help golfers capture lasting memories by sponsoring our photo booth!




Dinner Slide Show - $3,000
Everyone will see your logo while looking for their pictures from the day!




Reception - $2,500
Recognition as a sponsor for the Networking Reception. (co-sponsorship)


Scorecards -

Sold Out


Everyone will have a scorecard in their cart all day, why not go along for the ride?


Wine @ Dinner -

Sold Out


After a long day on the course guests will unwind with a nice glass of wine thanks to you!



Ben & Jerry's -

Sold out


What better way to help everyone cool down than by providing them with ice cream on the course?
Promotional Giveaway - $2, 000
Give each golfer a special gift with your logo! Golf towels or golf balls are just a few ideas that every golfer will love getting.
Golf Carts -

Sold Out


Your logo front and center on every golf cart used throughout the tournament.
Hydration Station - $2,000
When guests need a drink of water before hitting the links, it's your logo they'll see.
Registration Tent - $1,500
Every guest has to check-in! Great way for your company to get solid exposure.
Trolley - $1,500
Be our transportation sponsor as we head to and from the Hall of Fame after dinner.
1st or 10th Flag - $350 |

1st and 10th Tee Signs -

Sold Out


The 1st & 10th greens are an ideal place to display your logo!
Tee Sign - $300
Your logo will be featured on the tee box (Exact hole TBD).
Flag - $300
Your logo will wave proudly in the wind on one of the Leatherstocking's beautiful greens.
Limited rooms are available at The Otesaga Resort Hotel.
Call 607.353.6906 or go to www.otesaga.com, use online group code: 3223098
You may also reserve a room by using the Hotel Reservation Form.
Hotel reservation deadline is Sunday, June 20, 2021
Hotel Cancellation Policy:
Cancellations between the booking date and 3 days prior to arrival will incur a $55 administrative fee per room. Failure to arrive on the confirmed arrival date will result in the cancellation of your entire stay and the forfeiture of your deposit. Cancellations or changes made within 3 days of arrival will result in deposit forfeiture.
The Otesaga Resort Hotel
60 Lake St.
Cooperstown, NY 13326
Driving Directions
Questions? Contact Maribeth Riley at [email protected] or 800.358.1202
Register early and make your hotel reservations. We expect to sell out!
| Sponsors |   |   |   |   |
| --- | --- | --- | --- | --- |
| Beverage Cart | Wine | Ben & Jerry's | Scorecards | Golf Carts |
|   | | | | |